Growth and You
Learning is a key component of our success. Our approach to ongoing education includes formal training curriculum and on-the-job learning designed to complement your current skill set with a personalized growth and development plan.
In our rigorous technical training program, you'll build your skills in financial analysis and modeling, and enhance your understanding of regulatory requirements through interactive coursework that includes live programs, online recordings and e-learning solutions. Whether you take part in Duff & Phelps University, our initial technical training program for entry-level hires, or advanced technical topic modules for our more seasoned employees, you'll learn how to present effectively, develop new business opportunities and manage relationships with your clients. We'll also encourage you to pursue industry professional certifications to build your expertise. To prepare you to become an effective future leader, we'll give you an array of advanced programs designed to help you gain facility in management, coaching, leadership and senior management planning.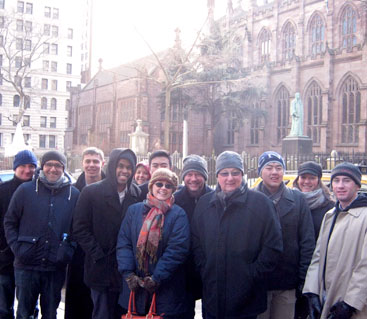 Talk about a bunch of troopers! Our YOUniversity Deal Challenge Finalist Teams from USC, Wisconsin and Illinois braved 10-degree temps to take "The Wall Street Experience" tour. You folks rock!
Duff & Phelps University
Learn, grow and start building your success—right out of the gate.
Our commitment to education extends beyond our internal learning and education curriculum. We also sponsor programs that help further financial education for members of the larger community, including the next generation of business leaders. For example, the annual Duff & Phelps YOUniversity Deal Challenge helps college students get real-world experience by solving a Duff & Phelps case study.
Duff & Phelps University Experience Get an inside peek at what happens at Duff & Phelps University: a little work, a little fun and a whole lot of collaboration.
Here's
What People Are Saying

About DPU:

"DPU was a great experience. The combination of classroom-style learning supplemented with rigorous training exercises really helped me establish a solid foundation prior to beginning the analyst role. The program was built significantly upon prior accounting and finance knowledge from college while also adding in real-world examples of case studies and previous Duff & Phelps engagements. One of the best parts was getting to know colleagues from my business line working in different parts of the world."

"There is a good balance between relaxed and serious in the office. Everyone gets along, and there is an open line of communication between analysts and managers."

"DPU is a great way to get exposure to the knowledge and resources you need in the office. It seems like an overwhelming amount of information at first, but I'm already remembering and using parts of what I learned at DPU after only two weeks in the office. It's a great review, and helps get you comfortable before beginning client work. Plus, it's a lot of fun, and there are plenty of networking and socializing opportunities with people from around the U.S. and even from around the world."

"In my first year, I've already worked on several billion-dollar transactions for large clients in the tech industry. Coming right out of school, this has been a great experience for me."

"I am very pleased with the career advisement program at Duff & Phelps. I met with my career advisor early on, working together to figure out goals that would be beneficial to my career as well as to the firm, and I continuously receive feedback on my progress. This is not something that you see at all companies."

"I have enjoyed the opportunity to work in several different project areas with many different people, including Dispute Consulting, Valuation Advisory Services and Intellectual Property. I feel that I am gaining exposure to different industries and practices."